For The Record captures the sound and sight of justice
.
For over three decades, For The Record has been challenging, harnessing, and studying audiovisual technology to advance justice.
We elevate the court record by providing digital recording solutions that transform accuracy, transparency, security, and accessibility.
For The Record advances access to justice by: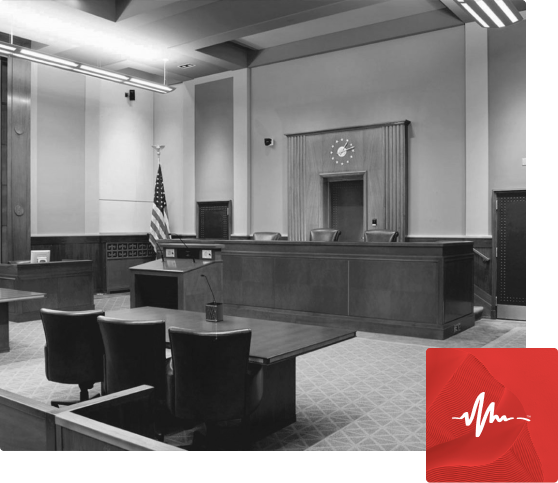 Our solutions are practical
.


Our purpose is higher

.
Providing a reliable and accurate court record is a fundamental tenet of a fair and transparent justice system. Yet the accuracy of a transcript or digital recording ultimately relies on the quality of the sound heard within the courtroom.
That's why For The Record's engineers are continuously developing the most advanced solutions to negate environmental and audio distractions that can adversely affect the ability to hear. Our justice solutions are designed to "hear" better than the human ear, recording exactly what is said—and how it is said.
Our configurations of patented and proprietary hardware and software create courtroom acoustics that facilitate clear, natural, and comfortable communications between parties—and optimize the intelligibility of the spoken word.
Our solutions include AV installations and audio design that improve recording capacity, quality, and playback with the gold standard in digital court recording, FTR Gold.
For The Record algorithms strip background noise; overcome distortion and reverb; and improve signal-to-noise ratio—refining audio for even clearer sound and more accurate digital records.
For The Record created the industry standard in recording solutions for courtrooms—and we are now elevating the standard in the cloud.
Each day, For The Record hardware and software record and manage hundreds of thousands of hours of proceedings in over 30,000 courtrooms, across more than 70 countries.
In the US, For The Record is contracted to provide justice technology solutions in all 50 states, including Illinois, Massachusetts, New York, South Carolina, and Wisconsin, as well as for jurisdictions of Los Angeles Superior Courts, Washington King County Superior Court, Orange County Court, and the Judicial Branch of Arizona in Maricopa County.
The US State Department has supported For The Record installations in countries such as the Bahamas, and USAID has supported installations in countries including Albania.
Other jurisdictions employing For The Record solutions include the International Criminal Court, The Hague; the United Kingdom Ministry of Justice; Australian federal and state courts; the Canadian provinces of Alberta, British Columbia, Manitoba, and Saskatchewan; and courts in New Zealand, Hong Kong, Brazil, and Mexico.
For The Record has offices and team members in the United States, Canada, Australia, and the United Kingdom, and are on-hand to support courts anywhere around the world.
For The Record's leadership team is united by a shared vision to improve access to justice. Our leaders are experts in their fields of technology, court reporting, audio engineering, justice administration, and business and financial management.